Tonight I etched a printed circuit board for my Nav/Com radio prototype. The toner transfer method using photo paper and a laser printer gave acceptable results. The board would have turned out better had the copper clad board I used been in better shape. It was a good deal on eBay and was a little rough with several pitted areas. A scouring pad cleaned it up pretty good. Below is the board after etching (ferric chloride rubbed on with a sponge, about 3 minutes to etch) and drilling.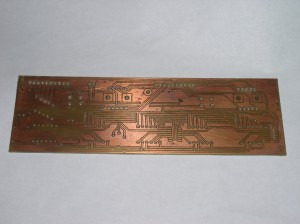 I inserted the 7 segment displays to check alignment. This project has been delayed again and again so I can hardly wait to light it up.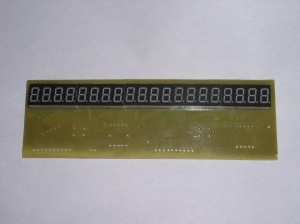 Here is a paper printout of my panel design to give an idea of what the finished product will look like. The display opening will have some kind of frosted or tinted plastic diffuser.