About Me
My name is William. I live near Saint Louis, MO and have been a Linux/Unix System Administrator for about 20 years.
This website is a repository for my personal projects and ideas. While it is mainly here for my own use, I hope you can find something interesting and useful for yourself.
The views expressed on this site are my own and do not represent the views of any of my employers, past or present.
Here it is, the site's namesake: The Workbench

Update: ( for all 3 of you that read my blog 😉 )
The workbench has moved to the other side of the basement as part of my basement finishing project.

I've also added a second, bigger workbench for larger projects.

Update 2:
The room is finished and the bench clean for a change.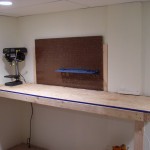 Update 3:
We moved to a new house in 2015. I should get some pics up here of the new space.
Update 3.1:
I don't post much here but still tinker a lot. Here is the (very messy) workbench